Venue & Hospitality
Venue Address:
Radisson Hotel Ottawa Parliament Hill
402 Queen Street
Ottawa, ON, K1R 5A7, Canada

Conference Dates: October 18-20, 2018
Hotel Services & Amenities
Audio/Visual Equipment Rental.
Business Center.
Business Phone Service.
Complimentary Printing Service.
Express Mail.
Fax.
Meeting Rooms.
Office Rental.
Photo Copying Service.
Secretarial Service.
Telex.
Typewriter.
Video Conference.
Video Messaging.
Video Phone.
ATM.
Baggage Storage.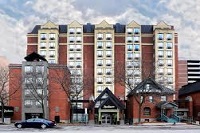 Transportation
Directions from Ottawa International Airport to Radisson Hotel Ottawa Parliament Hill

Directions
• Head south-west on Airport Parkway Private/Airport Pkwy towards Air Cargo Private/Airport 3 Ave( 140m )
• Make a U-turn at Air Cargo Private/Airport 3 Ave( 350m )
• Continue onto Airport Pkwy/Route 79 N (signs for Thad Johnson Road)( 6.9km )
• Keep left to continue on Bronson Ave/Route 79 N( 1.9km )
• Continue straight to stay on Bronson Ave/Route 79 N(Continue to follow Bronson Ave ( 3.0km ))
• Bronson Ave turns right and becomes Queen St( Destination will be on right ( 190m))
About City
Ottawa is the capital city of Canada, It stands on the south bank of the Ottawa River in the eastern portion of southern Ontario it's a place where you'll hear English and French spoken in the streets; where you can discover Canada's proud heritage at impressive national sites and famous landmarks, including the Rideau Canal (a UNESCO World Heritage Site). It's a city steeped in culture, with world-class museums and galleries displaying stunning national collections and special exhibitions from Canada and around the world.
Ottawa is the most educated city in Canada and is home to a number of post-secondary, research, and cultural institutions, including the National Arts Centre, the National Gallery, and numerous national museums. Ottawa has the highest standard of living in the nation and low unemployment. It ranked 2nd nationally, 24th worldwide in the quality of life index and is consistently rated the best place to live in Canada.
Ottawa is a destination alive with celebration, beginning each year with February's Winterlude, continuing through May's Canadian Tulip Festival, heating up July 1 with the biggest Canada Day celebration in the country, and going all-out with headliner summer music festivals.
This city is a uniquely beautiful place: an urban centre on the edge of nature where you can enjoy the great outdoors — just outside your hotel room, and nearby in the surrounding country side. There's an easy cosmopolitan vibe here, and Ottawa is known for being both welcoming and walkable. Explore the distinctive local neighbourhoods, including the historic ByWard Market: by day this area boasts a bustling farmers' market and chic shops, by night it hums with activity at the restaurants, pubs, and nightclubs.
Ottawa's domestic architecture is dominated by single family homes, but also includes smaller numbers of semi-detached houses, rowhouses, and apartment buildings. Many domestic buildings are clad in brick, with small numbers covered in wood, stone, or siding of different materials; variations are common, depending on neighbourhoods and the age of dwellings within them.